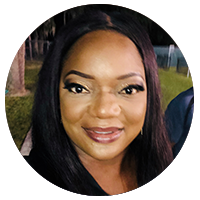 Aisha Osborne
TEACHER
Algebra, Geometry, Liberal Arts, and Algebra 2 Honors
Hello, my name is Aisha Osborne-McCondichie. I have been teaching math for 20 years. I have experience in teaching Algebra, Geometry, Liberal Arts, and Algebra 2 Honors for Orange County Public School System and Community Education Partners. I have 1-year experience as a Substitute Teacher for Orange County Public Schools. I also have 1-year experience in tutoring College Algebra for Florida Metropolitan University.
Additionally, I have over 3 years of experience in volunteer work for the Department of Defense Schools in Germany. Over 2 years of experience in college setting work-study programs. Over 2 years of experience in tutoring for my Homeowner Association. Over 2 years of experience tutoring in a Public School setting. I am fluent in both Spanish and German. I am proficient with all computer software and applications. I have a Bachelor of Science in Computer Information Systems and Business Administration, a Master's degree in Counseling and Psychology, and a Doctorate degree in Educational Leadership.
Click Here To Book
My Availability
Sorry, no posts matched your criteria.