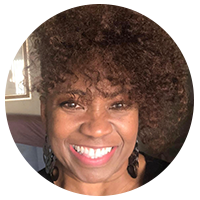 Michelle Hollinger
TUTOR
Grammar, writing, and reading comprehension.
Michelle Hollinger has a passion for people, words, and worth. She's a writer, sociologist, social worker, editor, and magazine publisher determined to use every ounce of talent God blessed her with; one of her favorite talents is helping youth use their own. As an editor, helping others with grammar, writing, and deepening their understanding and use of English came easily and was the most joyful aspect of the job. Michelle also served as a very regularly scheduled substitute teacher because of her connection to the students, as well as her ability to help them discover their strengths as writers and enhance their reading comprehension.
A proud graduate of Florida State University and Miami Jackson senior high, Michelle has served as editor of two of South Florida's most prominent newspapers, The Miami Times and the South Florida Times. She is the founder and publisher of The Sisterhood magazine, which is currently on hiatus pending a 2021 relaunch. Michelle is also the author of "Sis, You're Worth It: Seven Ideas for Manifesting Your Best Life," "Worthy" and "Are You Worthy? Powerful Steps for a Resounding Yes!" The books capture her healthy obsession with worthiness by illuminating the impact it has on people's lives.
She is the founder, president, and CWO (Chief Worthiness Officer) of The Institute for Worthy Living (https://theinstituteforworthyliving.com) – a new company with a vision and mission to guide people to their innate worth and therefore, their best lives, via coaching, innovative events, workshops, books, and online courses. Michelle is a mother to three awesome young adults and a grandmother to an amazing little girl.
Click Here To Book
My Availability
Sorry, no posts matched your criteria.