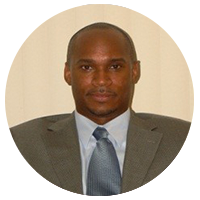 Oswald Durand
TEACHER
Remedial Math, Precalculus, Business Calculus, and Statistics
Hello Students and Parents,
I am a graduate of Howard University where I graduated with a Bachelor's degree in Pure and Applied Mathematics. I, then, pursued a Master of Education with a Focus in Education Leadership and Math Education at Cambridge College.
Before joining the Center Of Black Innovation, I worked for about 16 years, and still work…, as a math instructor for different local colleges, such as Broward College and Palm Beach State College and also in the private sector as an analyst. Also included in my teaching experience, I also taught Middle school and High school students at Miami Dade County Public Schools. As an educator, I have taught mathematics, in both modalities (face to face and online), from basic math to college-level courses (i.e. Remedial Math, Precalculus, Business Calculus, and Statistics).
As an educational philosophy, especially for my online classes, it is important for me to create a fertile learning environment that allows students to exchange ideas. In addition, I make all attempts to promote the class as a community of "mathematicians" where the instructor acts as a facilitator, and the students perform to their best of abilities.
Click Here To Book
My Availability
Mondays and Wednesdays 10 AM – 5 PM
Tuesdays, Thursdays, Fridays 10 AM – 8 PM
Saturdays 9 AM – 1 PM
Sorry, no posts matched your criteria.