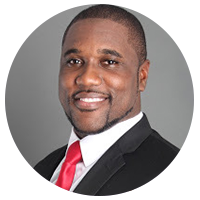 Vernal Green
Teacher
Math, Science, Robotics and Technology
Vernal graduated from Florida International University with a Bachelor of Science in Electrical Engineering, then earned a Master of Science in Electrical Engineering; while working mostly full time to gain real world experience and business sense. He cherishes the knowledge gained from his instructors, critical thinking skills, and the experiences he had, to help him become an educated global citizen.
He is active in his local church: IDC; serving as the Multimedia Director. Overseeing video streaming, an Internet Radio station, Audio Visual devices, a Cable television show for 1 year, and Networking for church buildings.
Continuing in service, Vernal has been involved with a program called: The Algebra Project (Miami Northwestern Senior High School) along with The Education Effect and Engineers on Wheels through Florida International University, which aids students on weekends to understand math and science through 1 on 1 and small group learning/tutoring sessions and visits various South Florida schools teaching and exposing community youth to STEM experiments.
Vernal has experience tutoring students from Grade 6 through Grade 12 in Math, Science, Robotics and Technology subjects over the last 10 years.
Click Here To Book
My Availability
Monday – Friday: 6 pm – 10 pm
Tuesdays 5 pm – 7:30 pm
Saturdays 12 pm (Noon) – 7 pm
Sorry, no posts matched your criteria.